Thinking if you should buy or rent a lorry in Singapore? Having a truck is useful, especially if you're transporting bulky items regularly. But with so many lorries available for leasing, you don't necessarily have to buy a lorry to get to use it. Read on to find out more about lorry rental in Singapore.
Why rent a lorry for your company/individual needs
One main advantage of having your own lorry is that you have more control over its use. You can drive it as long as you want and use it for any purpose. Plus, you can customise it to your liking, including pasting a decal on it to promote your business.
With that said, renting a lorry may be better than buying one. Here are the key benefits of renting a lorry instead of buying one.
1. Less capital intensive for a business
The price of a lorry isn't the only thing to account for when buying it. Other costs involved include maintenance and insurance costs. As the truck gets old, it will require more repairs to extend its lifespan as well.
On the other hand, with lorry leasing, you don't have to worry about wear and tear of the vehicle, or deal with repair and maintenance. In general, vehicle rental companies ensure that their rental vehicles are maintained and serviced regularly.
At Pan Pacific Leasing, each of our vehicles are regularly serviced at our own servicing and maintenance workshop to keep them in good working order. Plus, they are thoroughly inspected before they're rented out.
Whether you're using the lorry for the short run or the long run, renting one is more cost-effective. All you have to pay for are the lorry rental price, parking, ERP, and petrol. It's also a better option, especially if you're a start-up and don't have much budget to cater for transportation.
2. Involves minimal paperwork and lower upfront cost
Opting for lorry leasing also means that you don't have to deal with various paperwork and other upfront fees. This includes COE, road tax, and insurance.
3. No need to account for depreciation costs
Another good thing about lorry rental is that you won't have to account for depreciation.
By buying a lorry, for instance the Toyota Dyna, you'll need to account for an average depreciation cost of $7,500 per year.
Lorry rental is also more cost-effective if your business is more seasonal and won't require regular use of the lorry, as you won't have to account for the depreciation cost of idle capacity.
4. Offers greater agility
What's more, truck rental in Singapore gives you more flexibility for different jobs and to meet unanticipated needs. This is useful especially for businesses whose demand varies throughout the year.
For instance, if you're in the mooncake business, peak-periods like the Mid-autumn Festival could see higher orders and delivery volumes. Renting more vehicles can help you cope with the sales influx during the weeks leading up to the festival.
5. 24-hour vehicle breakdown and recovery service
Most lorry rental companies also offer 24-hour vehicle breakdown and recovery service. In the unfortunate event that your rental lorry breaks down, the company can help you get it towed and replaced as soon as possible. This also means that your business will have minimal disruptions.
On the other hand, if you were to own your own lorry and it breaks down, you'll need to settle all paperwork, get it towed, and find a replacement vehicle on your own. All this can take up more time and money.
What's the cost of commercial lorry rental in Singapore?
The cost of renting a lorry depends on the rental company and the duration of the lease.
On top of the lorry rental price, there's also ERP, fuel cost, and parking fees to take into account. Some rental companies may also require you to fill up the vehicle fuel tank fully before returning the vehicle.
What's more, the fuel cost won't only depend on the distance travelled, but also the vehicle engine. Some lorries run on petrol, while others run on diesel.
Pan Pacific Leasing has partnered with Borneo Motors Singapore to provide lorry rental fleets that run on diesel.
Diesel fuel is around 40% cheaper per litre than petrol, and is a more environmentally-friendly fuel as it emits less carbon dioxide and greenhouse gases than petrol.
With a diesel vehicle, you could decrease your fuel cost, do your part for the environment, and in the long term, reduce your running cost for the vehicle.
On top of that, diesel engines are also more efficient and allow for more mileage. This means you can travel for a longer distance with less fuel.
What are the types of lorry available for rent?
There are essentially two types of trucks for lorry rental in Singapore: 10ft trucks and 14ft trucks.
The default specification of these trucks are open-top, so if you need box, canopy or tailgate options, they will be customised to your requirements.
Sizes
10 feet lorry rental in Singapore
Given their small size, 10ft trucks are most commonly used by individuals and businesses for moving house and logistics purposes.
They are suitable to transport small and basic household appliances such as queen-sized mattresses, fridges, and washing machines. So if you're moving house or transporting equipment from one place to another, a 10ft truck would be fitting.
14 feet lorry rental in Singapore
14ft trucks are suitable for major house moves as they're large enough to store and transport items without having to make a lot of to-and-fro trips.
Being larger in size, they can also be used to transport long items such as pipes. So if you're in the construction business, this would be suitable to transport your hardware from point to point.
Here's a summary of the features for the lorries you can rent at Pan Pacific Leasing.
| | | | |
| --- | --- | --- | --- |
| | Nissan Cabstar | Toyota Dyna | Hino 300 |
| Size | 10ft | 10ft | 14ft |
| Transmission | Manual | Manual | Manual |
| Fuel Consumption | 11.6L/100km | 10.3L/100km | 10.4L/100km |
| Overall Dimensions | 4,690 x 1,695 x 1,990 mm (L x W x H) | 4,690 x 1,695 x 1,985 mm (L x W x H) | 6,120 x 1,995 x 2,210 mm (L x W x H) |
| Cargo Dimensions | 3,100 x 1,620 mm (L x W) Height varies | 3,110 x 1,600 mm (L x W) Height varies | 2,870 x 1,900 mm (L x W) Height varies |
| Options | Open, box, canopy, tailgate | Box, canopy, tailgate | Open, box, canopy, tailgate |
Types
Open-top lorry rental in Singapore
Open-top lorries have an open cargo area that allows for taller or stacked goods, such as wardrobes, to be loaded and transported. Given the setup, these lorries aren't subjected to carpark height restrictions.
Lorry with tailgate rental in Singapore
If you're transporting heavier goods, you might want to rent lorries with tailgates.
A tailgate is a device installed at the rear of a truck that moves up and down from the ground level. It helps to make the loading and unloading process easier and more efficient without having to use a forklift.
Lorries with tailgates are also suitable for transporting warehouse goods and palletised products from warehouses to retail shops. This can include heavier items such as cabinets and boxes of pans.
Do note that different tailgates have different weight limits. If you're planning to rent a lorry with a tailgate, it's best to let the vehicle rental company know the weight of your cargo so that they can help you find a suitable truck.
Box lorry rental in Singapore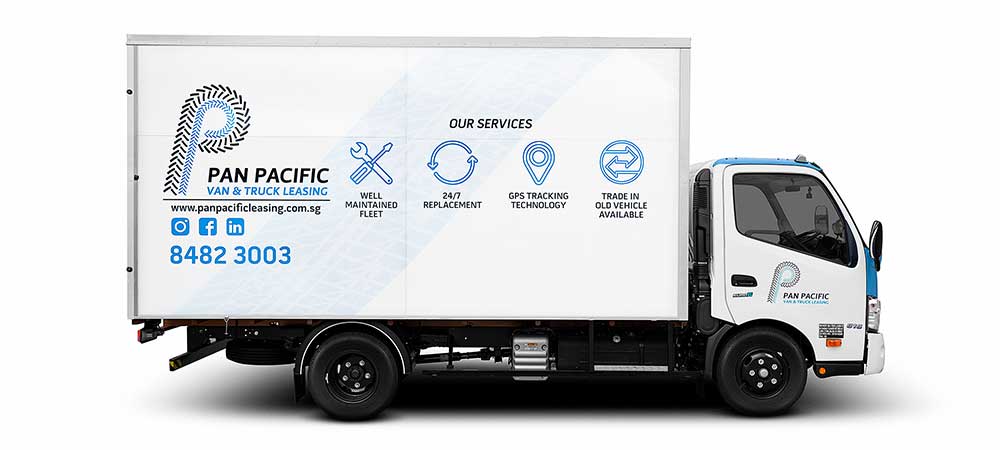 Also known as a cube van, box van, or cube truck, a box lorry is usually used for delivery of equipment and inventory from the warehouse to retail stores.
Its box configuration also makes it one of the most commonly used commercial vehicles as it offers weather protection for goods like appliances and furniture.
What's more, a box lorry is easier to manoeuvre and has better mileage than larger trucks, making it easier to drive in narrow and highly-congested areas. This is useful especially if the person driving is not very experienced in driving trucks.
Canopy lorry rental in Singapore
Equipped with a roof and railings over the cargo area, canopy lorries are commonly seen in Singapore carrying foreign workers.
But their use isn't limited to just passengers; they can also be used to carry goods like appliances and furniture. Their canopies also provide weather protection.
How to choose the right commercial lorry rental in Singapore
Now that you know more about the types of lorries available for rent, it's time to learn about how to choose the right one.
Pick the right rental company
Look into a few commercial vehicle rental companies in Singapore and compare the services provided. What kind of customer support do they provide? Does the rental come with additional services like 24/7 vehicle replacement? Be sure to also look at their range of vehicles and how they're maintained.
At Pan Pacific Leasing, we pride ourselves on having 24/7 service support and a replacement scheme, ensuring you get the help you need should your rental vehicle break down. Plus, our vehicles are regularly serviced at our own workshop, so that you can drive one in good working condition.
If you're planning to lease for at least a year, we can also provide you with personalised decals for your rental lorries. Some things you can feature on the decals include your company logo, contact details, and products and services offered by your business. This provides you with an additional platform to promote your business, as well as increase awareness for your brand.
Feel free to contact us to get a quote.
Prepare, plan, and book early
As with any kind of rental, booking early ensures you get to enjoy more competitive lorry rental rates in Singapore and have more options to choose from.
And be sure to take into account the driver of the lorry. Will you be driving it? If you're renting as a company, will you have a staff driving it? Some lorry rental companies in Singapore such as Pan Pacific Leasing provide rentals without a driver.
Keep in mind that if you're renting under your name for personal use, you're the only person allowed to drive the lorry. If you're renting as a company, any employee with a valid driving licence can drive it.
Do note the different requirements for the various types of lorries as well. For instance, given the unladen weight of 14ft trucks, a Class 4 licence is required to drive them.
Choose the appropriate size for your use
This depends on the type and size of the goods you're transporting.
For instance, if you're transporting a king-sized bed, a 14ft lorry is needed to do the job. On the other hand, a 10ft lorry would suffice if you're moving a single or queen-sized bed, along with a few items such a two-door wardrobe and a washing machine.
Besides the size, do note the weight of these items. Some items may be too heavy to be loaded as they can damage the suspension of the lorry.
Some buildings and loading areas have height limits as well.
While most 10ft open-top lorries can enter buildings such as HDB multi-storey car parks, those with box configurations and 14ft lorries may have more restrictions. This means you might need to park the vehicle at the side of the road, and use a trolley to bring the goods in.
On the contrary, if you have less things to move, a van rental will be better. Things like boxes of clothes, a small study table, and an office chair can fit in a van. Vans are more suitable for transporting and delivery of smaller items such as parcels, flowers, and food.
Prefer to rent a van? Check out your options here.
Tips on renting a lorry in Singapore
Before you jump into renting a lorry, be sure to keep these few things in mind.
Understand the rental terms: booking, deposit, and return terms
Find out what's required to book a rental vehicle. This usually includes providing your driving licence during the registration.
You may also need to pay a deposit, which can vary depending on the company, duration, and type of vehicle. At Pan Pacific Leasing, the deposit for our short-term rental is $300 to $500, and ranges from $800 to a month of rental for long-term rentals. Cash and credit cards are accepted for our deposit payment.
Another thing to note is the return process. Be sure to check if you need to top up the fuel tank before returning the vehicle.
Rent a lorry you're comfortable driving
Given the size of a lorry, driving one isn't the same as driving a normal car or a van. So you should only rent one that you or your staff are comfortable driving.
Check if the rental company offers lorries in automatic or manual mode as well. For instance, our fleet of lorries come in manual transmission, so they are not suitable for those who have not driven a manual vehicle before.
Check the lorry before signing the rental agreement
Before signing the contract, don't forget to inspect the lorry, such as its interior, exterior, tyres,  and windshield. Ensure that there's no damage.
Know what happens if your lorry breaks down en route
Unfortunately, you can never predict a breakdown. But what you can do is find out if the lorry rental company provides any breakdown support services.
One of the services Pan Pacific Leasing provides is 24-hour customer support for breakdowns. In the unfortunate event that your lorry breaks down, we can help you get it towed and get you a replacement vehicle.
Read more about our breakdown support service here.
Clean the lorry before returning it
Before returning the lorry, be sure to clean its interior and exterior, and ensure that you don't leave anything behind.
What else to note when renting a lorry
Before you rent a lorry in Singapore for your business or personal needs, here are a few things to take note.
Minimum lease periods
Different companies have different minimum lease periods. Some companies offer lorry rental services for as short as a day. At Pan Pacific Leasing, we currently offer monthly rentals for short-term use, and yearly rentals for long-term use.
Monthly rentals are a good option if you'd like to try and see if vehicle rental is feasible for your business. But if you require a lorry to transport items regularly throughout the year, a yearly rental would be the best option.
Learn more about how commercial vehicle rental in Singapore works and the different rental types here.
Rental collection
Also note to bring along the following documents when collecting your rental vehicle.
NRIC
Driving license
ACRA business profile if you're renting as a company
Lorry rental in Singapore is a convenient solution for varying business needs and personal uses. With flexible rental options and affordable leasing, you can focus your resources on more crucial business opportunities or personal tasks.