Need a van or a lorry to transport things? Whether you're planning to move or looking to offer a delivery service for your business, commercial vehicle rental in Singapore can be a great option for you.
Renting a commercial vehicle can be a little daunting, especially if you're doing it for the first time. In this guide, we explain the reasons why it's better to rent than buy a vehicle, how the rental works, as well as the things to note.
Why you should rent instead of buying a commercial vehicle in Singapore
Having your own commercial vehicle does have its advantages. You can use it for any purpose, and drive it anytime you want. There's also a sense of pride in having your own vehicle, especially given the fact that owning one is expensive in Singapore.
On the other hand, renting a vehicle is a more cost-effective alternative and has several benefits too. Let's dive deeper into the advantages of commercial vehicle rental in Singapore.
Lower costs
The cost of buying a commercial vehicle such as a van or a lorry in Singapore, let alone having a fleet, is high. On top of the price of the vehicle, you'll still need to pay for things like Certificate of Entitlement (COE) and road tax.
The cost of a commercial vehicle, like a Toyota Hiace van with automatic transmission, is $52,900.
As of November 2020, the COE for a Category C vehicle like the Toyota Hiace is $31,502.
With a diesel engine, the road tax is $213 for every six months.
All these costs, plus other charges, can amount to $84,835. This amount doesn't even include related costs of owning a van or a lorry, such as maintenance, which can bring up the cost even higher.
Here's a summary of the cost of buying a Toyota Hiace in Singapore.
| | |
| --- | --- |
| Price of Toyota Hiace (automatic) | $52,000 |
| Registration Fee | $220 |
| COE (Category C, as of November 2020) | $31,502 |
| Road Tax (every 6 months) | $213 |
| Total | $84,835 |
Sources: One Motoring | Toyota
On the flip side, if you lease the vehicle, you don't have to deal with such a high upfront cost. All you need to take into account is the van or lorry rental price, parking, ERP, and petrol.
This means that you'll have more capital for other needs as well. For example, rather than using it to buy a fleet for your delivery business, you can use it to invest in upgrading your equipment or upskilling your team.
No need to account for depreciation costs
Another thing about owning a commercial vehicle is that you'd need to take into account the loss in value as it gets older.
Using the Toyota Hiace as an example, you'd need to account for an average depreciation cost of $7,400 per year if you were to buy it.
However, with renting, you can do away with the depreciation costs, making it easier for accounting as well.
Given these factors, renting can be a more cost-effective solution than buying, even for long-term use.
No need to deal with repairs and maintenance
Vehicles also require regular maintenance and servicing, whether or not they are used regularly. Similar to the cost of owning a commercial vehicle in Singapore, maintenance costs can be expensive as well.
The good thing about renting vans and lorries is that you don't have to deal with all these, as they are regularly maintained and serviced by the rental company.
For instance, at Pan Pacific Leasing, we have our own vehicle servicing and maintenance workshop for our rental vehicles. Each vehicle goes through a comprehensive inspection before it's rented out. All these procedures ensure our rental vehicles are in good working order.
Vehicle replacement
A vehicle breakdown is the last thing that every vehicle owner wants to happen. When it does happen, it can disrupt day-to-day activities and business operations.
This is especially so when you have delivery deadlines to meet. Not only will your logistics be affected, but you'll also have to spend time and money to get a replacement vehicle.
However, with renting, a vehicle breakdown won't affect your activities and business as much.
As a commercial vehicle rental company in Singapore, we provide replacement vehicles, allowing you to resume your activities with minimal disruption. In addition, we offer 24/7 services in customer support, breakdown and towing assistance, and replacement vehicles.
Rather than dealing with a tow company to send your vehicle to the workshop and doing the paperwork on your own, simply call the rental company and they'll take care of everything for you. At the same time, you can get a replacement vehicle.
This way, you get to save time and not lose business opportunities.
Looking for a fleet of vehicles for your business? Find out more about our services here.
More vehicle options and flexibility
Renting also gives you the flexibility to use different types of vehicles for different jobs and needs.
This will definitely come in handy if your business has seasonal fluctuations. You get the flexibility to drive a smaller van during off-peak periods, and change to a bigger lorry during peak periods of your business.
Commercial vehicle rental can cater to your varying needs. Should you find that you don't like driving a particular make, you can simply switch to another one.
In times of business growth, renting allows you to expand your vehicle fleet easily by paying for extra rental vehicles. In times of downturn or restructuring, you can quickly downsize your fleet by renting less.
Need a van or a lorry soon? Get in touch with us to get a quick quote.
How does commercial vehicle rental in Singapore work?
In general, commercial vehicle rental in Singapore is available for both individual usage and business purposes.
Individual use
Despite the name, commercial vehicles can be rented by individuals.
Before renting, be sure to keep in mind the commercial vehicle rules in Singapore. If you're renting the vehicle under your name, only you'll be allowed to drive it. You'll also need to provide your driving license when renting it.
Do note that commercial vehicles should also not be used for private passenger transport. If you're renting as an individual, it should mainly be used for carrying goods.
Instances in which you can rent a commercial vehicle as an individual include the following:
House moving
Bringing around bulky equipment regularly
Running a small-scale business such as a hawker stall
Running a home-based business such as baking and floral business
Corporate use
Commercial vehicles are also available for companies to rent, in which the rental process works a little differently from individual use.
As the vehicle is registered under the company's name, any company staff — including the boss — with a valid driving license can drive it.
As per commercial vehicle rules in Singapore, be sure to provide the rental company with the drivers' details and update any changes during the time of lease.
Businesses that use commercial vehicle rental in Singapore include logistics, food and beverage (F&B), construction, pest management, cleaning, and events. On top of carrying goods and equipment, businesses can also use vans and trucks to transport passengers.
While commercial vehicles cannot be used for private passenger transport, they can be used by companies for employee transport. These include providing transport for workers between their lodgings and workplaces, as well as between places of work.
If you're thinking of transporting workers in lorries, the vehicles to use should be equipped with canopies and side railings of at least 700mm from the carriage deck and at least 300mm from the top of the sideboards to ensure their safety.
Commercial vehicle rental in Singapore: What are the types of rental services available?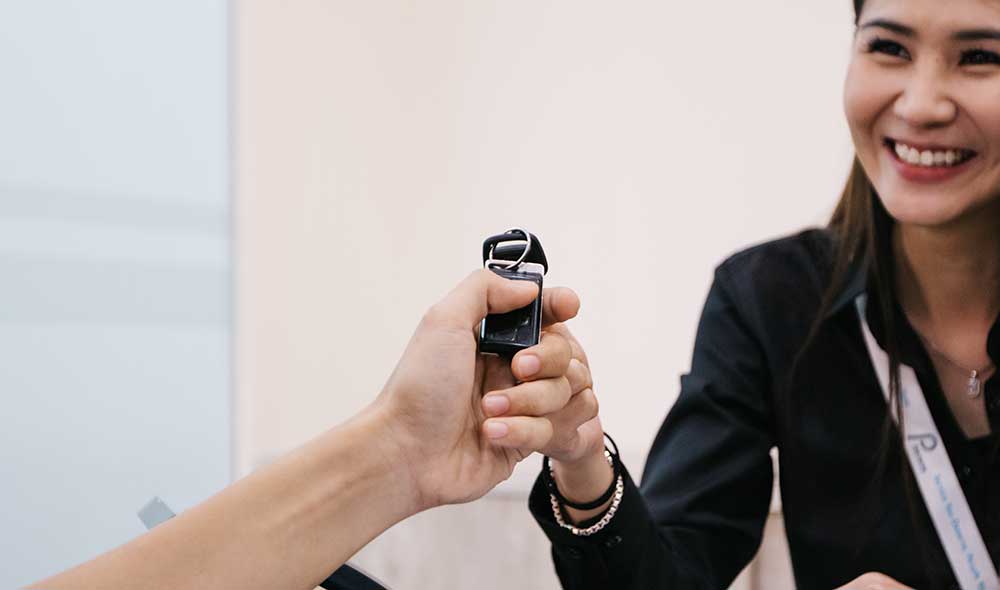 Most rental companies offer both short term and long term leases. Some even provide rentals as short as a day.
Daily rentals
You may opt for short term rentals if you can drive and just require a van or a lorry for ad-hoc purposes.
A daily rental is the best option to go for if you need to make multiple trips in a day, or a few days. This includes instances such as transporting your furniture for house or office moving, bulky equipment for events, or for weekly food delivery.
It's also a better option than vehicle rentals that charge per trip.
Weekly rentals
A weekly rental is also suitable if you're only planning to use the vehicle for the short term, such as when your business is more seasonal.
For instance, if your business sells seasonal delicacies such as log cakes, you can rent a van to deliver them during the weeks leading up to the festivities.
Another situation in which a weekly rental is suitable is when you have events that run for a few weeks, requiring you to go back and forth for setup, restocks, and teardowns.
Monthly rentals
If you prefer not to commit to a long-term lease, or would like to see if renting a van or lorry is suitable for your business, you may want to go for monthly rentals. This is a good option if you're in the e-commerce or F&B industry, and planning to provide your own delivery.
One main advantage of short term rentals such as daily, weekly, and monthly rentals is their flexibility, allowing you to rent only when you need the vehicles. These short term rentals can help you cut down on costs especially when you don't need to use the vehicles regularly throughout the year.
However, given the short term duration, short term leases can be a little pricier than long term leases when compared by cost per trip.
Yearly rentals
Yearly rental is the best option to go for if you need to transport items regularly throughout the year.
If your business is in the F&B, construction, furniture, e-commerce, logistics, courier, cleaning, or pest management industry, yearly rentals are a great alternative to buying a fleet of vans and lorries. You can also enjoy lower costs given that yearly rentals have lower costs per trip than short term rentals.
On top of that, a yearly rental plan with Pan Pacific Leasing allows you to have your own personalised decal on your rental vans and lorries. You can feature your business logo, contact details, and services on your rental vehicle to promote your business. This can also help boost your brand image and brand awareness.
With the different types of rental leases available, you'll be able to find one that suits your personal use or current business needs. However, do note that due to the COVID-19 pandemic, Pan Pacific Leasing currently only provides monthly and yearly rentals.
Commercial vehicle rental in Singapore: What are the types of vehicles available?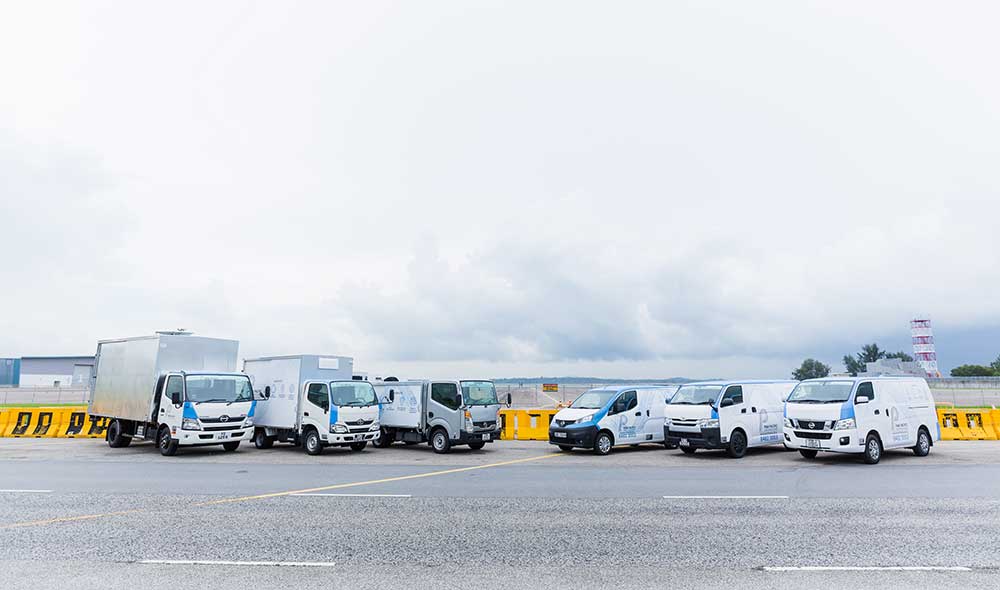 In Singapore, most commercial vehicle rental companies offer two types of vehicles: vans and lorries.
Vans
Vans are suitable for transporting and delivery of smaller items such as parcels, flowers, and food, as well as smaller furniture like tables and chairs.
They are also a suitable option for light moving, such as for transporting boxes of clothes and household appliances.
The type of van you can rent at Pan Pacific Leasing are cargo and compact vans. Check out our range of commercial vans for rental in Singapore here.
Lorries
But if you're transporting bigger items such as mattresses, fridges, and washing machines, or if you're moving with a lot of items, a lorry will be a better option.
Pan Pacific Leasing currently has two types of vans for rental: 10ft truck and 14ft truck. A 10ft truck is suitable for transporting smaller furniture such as a single or a queen-sized bed, while a 14ft truck is better suited for a king-sized bed.
Before renting a lorry, do note the height restrictions of buildings and car parks. Due to their larger size, 14ft lorries are subjected to more restrictions than 10ft lorries. This means that they aren't allowed to enter certain car parks and have to be parked outside the building, and hence require trolleys to bring in the goods.
Find out more about our range of commercial lorries for rental in Singapore here.
We also have other makes of vans and lorries that are not on our website, but may be available upon request. Feel free to contact us for more information.
What to take note when renting a commercial vehicle in Singapore?
Before going into renting one, here are a few things to keep in mind.
Deposit
In addition to the rental fee, you'll need to pay a deposit for your rental vehicle.
The deposit amount varies depending on the rental company, the duration of the lease, and the type of vehicle.
If you're planning to rent from Pan Pacific Leasing, you can expect the deposit to be between $300 and $500 for short term rentals.
The deposit for longer term rentals will range from $800 to one month of rental.
Both cash and credit card are accepted for the deposit payment.
Does the rental vehicle come with a driver?
This depends on the commercial vehicle rental company in Singapore you're renting with. There are some companies that provide vehicle rental with drivers.
But suppose you prefer to go for a van or lorry rental without a driver in Singapore. In that case, you can consider going to companies that only lease out commercial vehicles, such as Pan Pacific Leasing.
This means that if you're renting for company use, you'll need to have your own drivers driving the vehicles. If you're renting for personal use, you'll be the only one allowed to drive it.
Do note that a Class 3 driving license is required to drive a van or a lorry.
What are the documents needed to rent a commercial vehicle in Singapore?
During the collection of the rental vehicle, be sure to bring along the following documents:
If you're renting for company use, you'll also need to provide your company's ACRA business profile.
Pan Pacific Leasing offers a hassle-free and one-stop commercial vehicle leasing solution. With approximately 1,900 vans and lorries in our fleet, you can be sure that you'll be able to find the right vehicle for your needs. Plus, you can expect a fast collection process within 15 minutes.
Ready to rent a commercial vehicle in Singapore? Contact us to get a quote.